Department of Ayurved Samhita Siddhanta
Ayurveda is the future of global healthcare, as it helps treat the root cause of a health issue, not merely the symptoms. Moreover, it focuses on rejuvenation therapies that promote the whole body-mind-spirit complex. An emerging health and wellness brand of India, that is also doing cross border sales has played a vital role in educating the masses about Ayurvedic herbs and their use in everyday life with products like Ayurvedic teas, herbal powders, supplements, tonics, and immunity boosters. "Ayurveda is an ancient science of Indigenous medicine, it is special in respect that it is not only a medical science but an Art of Living in Human being. "This is the first and the most important Department of Ayurveda, Also known as Basic principles. This department is concerned with basic principles of Ayurveda which are described in classical texts i.e. Ayurved Samhitas. Samhitas are in Sanskrit language which is a divine language, hence to understand the samhita in their true meanings Sanskrit is also taught by this department along with samhitas (classical texts) in detail.
The department is one of the preliminary and integral components of Ayurvedic academia. This dept imparts teaching and training of basic principles of Ayurveda, Ayurvedic history, Indian meta physics (Darshana) and Sanskrit language at the under graduate and post graduate level. The subject handled by the department accounts for the largest proportion of study materials prescribed in the first professional curriculum. It is essentially these topics data subsequently assimilated and utilized in the subsequent phases of Ayurvedic studies and clinical practice. As is the case with any scientific discipline, thorough and comprehensive understanding of the principles and theories incorporated are indispensible for the popular appreciation and practical advancement of Ayurveda. It is this critical duty that is being performed by the department. Moreover, the process of introduction of Ayurvedic subjects to a new comer; who otherwise would be a total stranger to these, requires delicate and sensitive effort. This is central to the process of bringing out excellent Ayurvedic experts who are firmly rooted in their scientific concepts. The dept has correspondingly undergone all the phases of transformations which the Ayurvedic academia had encountered.
Academic Facilities
The dept has sufficient infrastructural facilities for the routine functioning. There are two separate class rooms for undergraduate students, a postgraduate lecture class, ayurvedic museum, department library, seminar hall and ample staff room and Professors room. The dept has maintained a publication division with separate sales outlet. Around 28 titles pertaining to varies aspects of Ayurveda have so far been published.
The department library has a rich collection of around 25 titles related to the various aspects of Ayurvedic fundamental principles, Sanskrit and meta physics. There is also a well maintained collection of compilation works-100 plus, Shloka books-90 plus and charts-90plus on various Ayurvedic topics as well as the systematic documents of the academic works completed so far within the department.
Charts-90+
Models-10
Books-100 +
Facilities for Public
The department also possesses a museum with a collection of valuable artefacts, models and charts, visualizing the various concepts and principles of the science. The same has been conceived with the students and common public as the beneficiary of the same.
The publication division functioning under the department has been set up primarily for bringing out Ayurvedic texts as per the stipulations of the CCIM/NCISM curriculum and it will be updated as per the MSR NCISM. However several rare treatises of the science that had been previously unavailable have also been brought to the light by the publication division. There are around 30 diverse titles that have been brought out by the division and still further are in the process of publication. The frequency of the editions of the titles definitely indicates the utility of the division.
Sanskrit
Ayurveda originated as of Vedic sciences. All original texts of Ayurveda were science in sanskrit so, the knowledge of sanskrit language is compulsory to learn Ayurveda
Vision:
To Systematize Ayurvedic knowledge to update with international standards and revalidate the Ayurveda principles for well being
Mission
Scientific exploration of ancient classical texts
To prove the applicability of ancient texts & basic principles in this modern era.
To unfold the secrets of life and make society healthy & happy.
History of Ayurveda and Padarth Vijnana
Glorious history of Ayurveda with progressive development in various branches of Ayurveda are well explained in this subject. Every element in this universe consists of five basic elements named as panchamahabhutas( Earth, water, fire, wind and space). Likewise Human body also consists of panchamahabhutas. Understanding human body with concept of soul and mind, Universe, their inter relationship, principles of treatment is the aim of this subject.
Samhita Ashyayan-(1-2-3)AshtangHridayam,CharakaSamhita,MaulikSiddhanta and Research Methodology
Excellent classical text by Acharya Vagbhata which gives the basic information of Ayurvedic principle.
Future Scope of Ayurved Samhita and Siddhanta
MD Ayurveda Samhita and Siddhant is a PG level course in Ayurvedic Medicine. This particular department in Ayurveda imparts the knowledge and understanding of basic principles of Ayurveda as well as research methodology. The duration of the course is three years. The course is recognized by the Central Council of Indian Medicine (NCISM) which functions under the Ministry of AYUSH. To join Ayurveda Samhita and Siddhant course in Ayurveda PG you will need to have a B.A.M.S. degree recognized by NCISM as well.The Department of Ayurved Samhita and Siddhanta contributing the understanding the fundamental principles of Ayurveda.The Department engaged in the understanding the research, development, manufacturing, and marketing of Ayurvedic products. Ayurveda offers a whole new spectrum of modern, yet authentic, Ayurvedic products that help integrate the power of Ayurveda into our everyday lives. "Validation of Divine Ayurvedic Wisdom through Scientific Knowledge in the Current Era." The fundamental principles of Ayurveda Dedicated to providing qualitative and effective herbal solutions, the R&D department is committed to product development, quality control, and standardization which offers their customers safe and efficacious Ayurvedic medicines and food products.
Unique Features of Ayurveda
Prepare the graduates and specialists to cater to understand core principles of Ayurveda
Training to the scholars by using Modern pedagogy and activity outcome based.
Training the scholars to teach Ayurveda principles in academia
Exploring the unexplored areas of research in Ayurveda.
Collect, preserve, digitalize, catalogue and publish unpublished medical manuscripts
Emerging department in the field of Ayurgenomics
TEACHING STAFF

| | | | | | |
| --- | --- | --- | --- | --- | --- |
| SR. NO. | NAME OF STAFF | TEACHER CODE | QUALIFICATIONS | DESIGNATION | F.T./P.T |
| 1 | Dr. Krishna Rathod | AYSS00095 | M.D. (Ayu.) | Associate Professor | F.T. |
| 2 | Dr. Vicky Gupta | AYSS00088 | M.D. (Ayu.) | Assistant Professor | F.T. |
| 3 | Dr. Manishkumar Vidja | AYSS00056 | M.D. (Ayu.) | Assistant Professor | F.T. |
| 4 | Mr. Chirag Purohit | AYSN00535 | M.A., B.Ed. | Assistant Professor | F.T. |
SUPPORTIVE STAFF
| | | |
| --- | --- | --- |
| SR.No. | NAME OF STAFF | DESIGNATION |
| 1 | Ms. Januben R. Patel | ATTENDANT |
Department Area : 53.76 SQ.MT.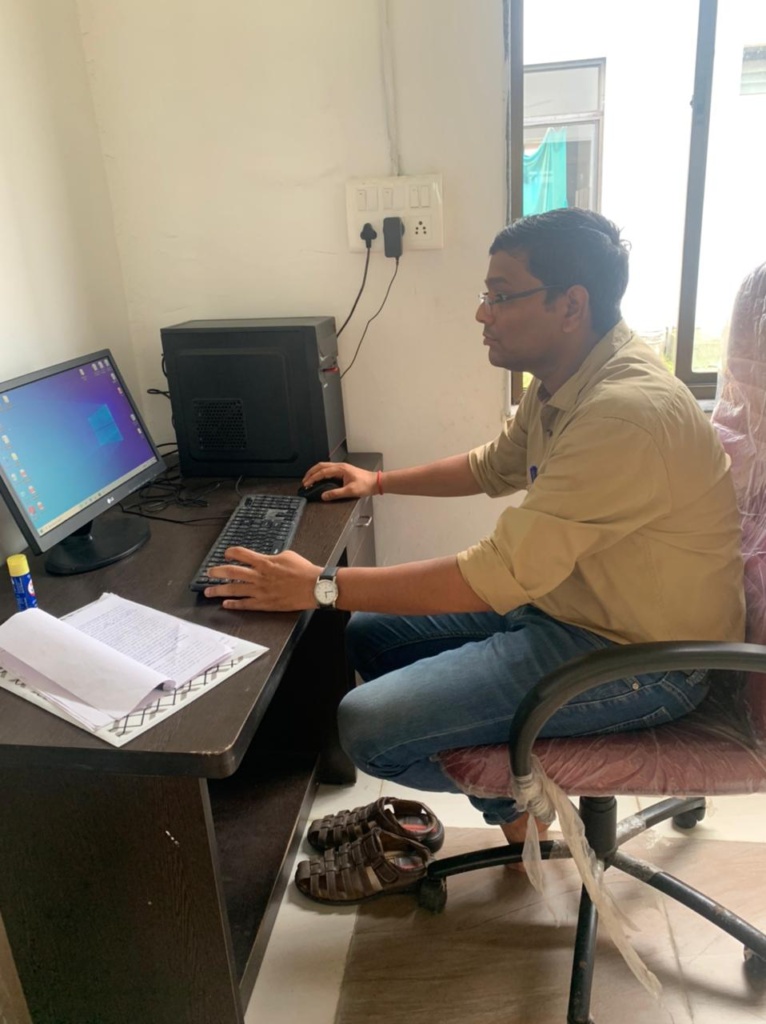 LIST OF FURNITURE
| | | |
| --- | --- | --- |
| SR. NO. | NAME OF ITEM | QUANTITY |
| 1 | IRON CUPBOARD | 01 |
| 2 | OFFICE TABLE | 02 |
| 3 | REVOLVING CHAIR | 04 |
| 4 | SIMPLE CHAIR | 06 |
| 5 | COMPUTER | 01 |
| 6 | WHITE BOARD | 01 |
| 7 | STUDENT STOOL | 30 |
| 8 | CEILING FAN | 4 |
| 9 | TUBE LIGHT | 4 |
LIST OF BOOKS
| | | | |
| --- | --- | --- | --- |
| Sr. no. | Title (Books) | Author | Books Number |
| 1 | History of ayurveda | J.L.N. Sastry | 61 |
| 2 | History of ayurveda | J.L.N. Sastry | 62 |
| 3 | Hathayoga pradipika | Dr. Sarvesh A. | 126 |
| 4 | Hathayoga pradipika | Dr. Sarvesh A. | 127 |
| 5 | Hathayoga pradipika | Dr. Sarvesh A. | 128 |
| 6 | Padartha vinischaya | Dr. D. A. Kulkarni | 350 |
| 7 | Padartha vinischaya | Dr. D. A. Kulkarni | 351 |
| 8 | Padartha vinischaya | Dr. D. A. Kulkarni | 352 |
| 9 | Padartha vinischaya | Dr. D. A. Kulkarni | 353 |
| 10 | Padartha vinischaya | Dr. D. A. Kulkarni | 354 |
| 11 | Prabhika padartha vijnana | Dr. A. P. Achal | 435 |
| 12 | Prabhika padartha vijnana | Dr. A. P. Achal | 436 |
| 13 | Prabhika padartha vijnana | Dr. A. P. Achal | 437 |
| 14 | Prabhika padartha vijnana | Dr. A. P. Achal | 438 |
| 15 | Prabhika padartha vijnana | Dr. A. P. Achal | 439 |
| 16 | Susruta Samhita | Prof. P. V. Sharma | 550 |
| 17 | Suvarn tantram | Prof. Siddhi N. Mishra | 556 |
| 18 | Suvarn tantram | Prof. Siddhi N. Mishra | 557 |
| 19 | Suvarn tantram | Prof. Siddhi N. Mishra | 558 |
| 20 | Unfolded secrecies of sushruta samhita | Dr. Mahesh kumar N. Chaudhari | 575 |
| 21 | Unfolded secrecies of sushruta samhita | Dr. Mahesh kumar N. Chaudhari | 576 |
| 22 | Unfolded secrecies of sushruta samhita | Dr. Mahesh kumar N. Chaudhari | 577 |
| 23 | Unfolded secrecies of sushruta samhita | Dr. Mahesh kumar N. Chaudhari | 578 |
| 24 | Unfolded secrecies of sushruta samhita | Dr. Mahesh kumar N. Chaudhari | 579 |
| 25 | Vaidya jivanam | Dr. I. Tripathi | 595 |
| 26 | Vaidya jivanam | Dr. I. Tripathi | 596 |
| 27 | Vaidya jivanam | Dr. I. Tripathi | 597 |
| 28 | Vaidya jivanam | Dr. I. Tripathi | 598 |
| 29 | Vaidya jivanam | Dr. I. Tripathi | 599 |
| 30 | Vidhi vaidyaka | Dr. Sivanatha Khanna | 617 |
| 31 | Vidhi vaidyaka | Dr. Sivanatha Khanna | 618 |
| 32 | Vidhi vaidyaka | Dr. Sivanatha Khanna | 619 |
| 33 | Vidhi vaidyaka | Dr. Sivanatha Khanna | 620 |
| 34 | Vidhi vaidyaka | Dr. Sivanatha Khanna | 621 |
| 35 | Sanksipta astanga samgraha (v-1) | Dr. S. V. Shukla | 694 |
| 36 | Sanksipta astanga samgraha (v-1) | Dr. S. V. Shukla | 695 |
| 37 | Sanksipta astanga samgraha (v-2) | Dr. S. V. Shukla | 698 |
| 38 | Astang yoga | Dr. Niru Nathani | 704 |
| 39 | Astang yoga | Dr. Niru Nathani | 705 |
| 40 | Astang yoga | Dr. Niru Nathani | 706 |
| 41 | Astang yoga | Dr. Niru Nathani | 707 |
| 42 | Astang yoga | Dr. Niru Nathani | 708 |
| 43 | Astang harrdayam | Prof. P. V. Sharma | 727 |
| 44 | Mool astanga hardayam | Vagbhata | 735 |
| 45 | Mool astanga hardayam | Vagbhata | 736 |
| 46 | Mool astanga hardayam | Vagbhata | 737 |
| 47 | Astang harrdayam (Sutrasthana) | Prof. P. V. Sharma | 759 |
| 48 | Astang harrdayam (Sutrasthana) | Prof. P. V. Sharma | 760 |
| 49 | Astang harrdayam | Prof. Banwarilal Gaur | 785 |
| 50 | Astang harrdayam | Prof. Banwarilal Gaur | 786 |
| 51 | Astang harrdayam (Sutrasthana) | Dr. Sweta Jain | 794 |
| 52 | Astang harrdayam (Sutrasthana) | Dr. Sweta Jain | 795 |
| 53 | Astang harrdayam (vol.1) | Dr. Bulusu Sitaram | 820 |
| 54 | Astang harrdayam (vol.1) | Dr. Bulusu Sitaram | 821 |
| 55 | Ayurved darsan(Caraka, Susruta and Vagbhata) | Dr. S. V. Shukla | 830 |
| 56 | Ayurved darsan(Caraka, Susruta and Vagbhata) | Dr. S. V. Shukla | 831 |
| 57 | Ayurved darsan(Caraka, Susruta and Vagbhata) | Dr. S. V. Shukla | 832 |
| 58 | Ayuved vaijnika ithihas | Prof. P. V. Sharma | 858 |
| 59 | Ayuved vaijnika ithihas | Prof. P. V. Sharma | 859 |
| 60 | Caraka samhita (Ayurveda – dipika's ayusi hindi – commentary) vol-1 | Vd. Harish C. Kushwaha | 878 |
| 61 | Caraka samhita (Chakrapani) | Vadavji Trikamji Achary | 883 |
| 62 | Caraka samhita (vol-1) | Prof. P. V. Sharma | 886 |
| 63 | Caraka samhita (vol-2) | Prof. P. V. Sharma | 888 |
| 64 | Caraka samhita (vol-3) | Prof. P. V. Sharma | 890 |
| 65 | Caraka samhita (vol-4) | Prof. P. V. Sharma | 892 |
| 66 | Contributions of dalhana in the field of basic principles of ayurveda | Prof. Jyaram Yadav | 895 |
| 67 | Susruta Samhita (vol-1) | Prof. K. R. S. Murthy | 939 |
| 68 | Susruta Samhita (vol-2) | Prof. K. R. S. Murthy | 942 |
| 69 | Susruta Samhita (vol-1) | Dr. Keval K. Thakaral | 948 |
| 70 | Synopsis of astanga hardyam (Surta) | Dr. Rajneesh Giri | 957 |
| 71 | Synopsis of astanga hardyam (Surta) | Dr. Rajneesh Giri | 958 |
| 72 | Synopsis on caraka samhita | Dr. Rajneesh Giri | 1008 |
| 73 | Synopsis on caraka samhita | Dr. Rajneesh Giri | 1009 |
| 74 | Unfolded secrecies of sushruta samhita | Dr. Mahesh kumar N. Chaudhari | 1057 |
| 75 | Unfolded secrecies of sushruta samhita | Dr. Mahesh kumar N. Chaudhari | 1058 |
| 76 | Saxipat padarth vigyan evam ayurved itihas | Dr. S. V. Shukla | 1685 |
| 77 | Saxipat padarth vigyan evam ayurved itihas | Dr. S. V. Shukla | 1686 |
| 78 | Saxipat padarth vigyan evam ayurved itihas | Dr. S. V. Shukla | 1687 |
| 79 | Ayurved ka vaijnika itihas | Dr. P. V. Sharma | 852 |
| 80 | Ayurved ka vaijnika itihas | Dr. P. V. Sharma | 853 |
| 81 | Panchatantram (पंचतंत्रम) | Dr. Shree Krushna Tripathi / Dr. Ram Shankar | 1974 |
| 82 | Panchatantram (पंचतंत्रम) | Dr. Shree Krushna Tripathi / Dr. Ram Shankar | 1975 |
| 83 | Panchatantram (पंचतंत्रम) | Dr. Shree Krushna Tripathi / Dr. Ram Shankar | 1977 |
| 84 | Laghu siddhanta kaumudi (लघुसिद्धान्तकौमुदी) | Dr. Surendra Dev S. Shastri | 1968 |
| 85 | Laghu siddhanta kaumudi (लघुसिद्धान्तकौमुदी) | Dr. Surendra Dev S. Shastri | 1971 |
| 86 | Anuvada – candrika | Dr. Yadunandan Mishra | 1911 |
| 87 | Anuvada – candrika | Dr. Yadunandan Mishra | 1912 |
| 88 | Padarth vigyan | Dr. Hiralal R. Shivahre | 3366 |
| 89 | A text book of padartha vijnana evam ayurveda itihasa | Dr. Dingari L. Chary | 2808 |
| 90 | A text book of padartha vijnana evam ayurveda itihasa | Dr. Dingari L. Chary | 2810 |
| 91 | Carakasamhita (vol.2) | Acharya Vidyadhar Shukla / Prof. Ravi Dutt Tripathi | 3583 |
| 92 | Carakasamhita (vol.1) | Acharya Vidyadhar Shukla / Prof. Ravi Dutt Tripathi | 3582 |
LIST OF CHARTS
AYURVED PRAYOJAN
SAPTA CHATUSHAK
ASTONINDIT PURUSH
SHARIRE SHUSHRUT SHRESTHA
SHRISTI UTTAPATI KRAMA
RASA SANKHYA VIMARSHA
AUSHADH SUTRA
TRISUTRI AYURVED
VAYU KI MAHIMA
TRIVIDH DRAVYA
DASHVIDH PARIKSHYA BHAVA
ASHTANG SANGRAHA
ASHTA SANGRAH
ASHTA KSHEER
LINGA SUTRA
KARMA
DHARNIYA VEGA
INDRIYA PANCHPANCHAK
LAGHUTRAYI
CHARAK SAMHITA
VIMAN STHAN
VAYU PRAKAR, STHAN AND KARMA
SANDHI AND VISARGA
SILENT FEATURES OF VIMAN STHAN
SWARA AND VYANJAN
HALA SANDHI
SAMAS
LAKAR
ACHA SANDHI
MAHESHWAR SUTRANI
LIST OF MODELS
TRIGHARBH RASAYAN KUTI
BHU SWEDA
AVAGAH SWEDA
KARSHU SWED
SAMANYA VISHESH SIDDHANT
ASHAMGNA SWEDA
JENTAK SWEDA
NADI SWEDA
KUTI SEWDA
PRASTAR SWEDA