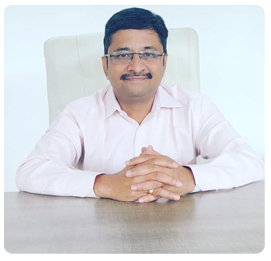 World is getting more and more attracted towards Ayurveda day by day. Authentic Education of Ayurveda is therefore becomes need of hour.
While working in interior area of Panchmahals district, we eager to achieve world standards, and present ourselves as successor of ancient Ayurveda. Getting notified in today world is also important. Undergoing activities under Azadi Ka Amruta Mahotsav, MSE advised by NCISM, guidance of Gujarat Ayurveda University is enlightening our further progress.
I assure all to work hard for progress and development of our Institute.
Principal
Dr. Dattatraya Kharosekar